| | |
| --- | --- |
| Brand: | Monitor Audio |
| Construction: | 2-Way |
| Drivers: | Dynamic |
| Sensitivity: | 85dB |
| Power (RMS): | 50W |
| Surround: | Classic |
Description
Nowa seria Vector została opracowana pod kątem jak najwyższej jakości dźwięku, przy jednoczesnym zachowaniu przystępnej ceny, a to wszystko w pięknych obudowach. Koncepcja techniczna serii Vector została zapożyczona z popularnej serii Radius.
Precyzja, znakomita sztywność polimerowych obudów zastosowanych w modelach V10 i V20, charakteryzujących się wysoką sztywnością, zapewnia niskie rezonanse, a w rezultacie wysokiej jakości dźwięk. Przedni panel wykonany z MDF jest świetną podstawą dla przetworników, co w znaczący sposób redukuje zniekształcenia. Technologia ta, użyta we flagowej serii Platinum, gwarantuje charakter brzmienia pozbawiony podbarwień pochodzących od obudowy. System mocowania przetworników również został zapożyczony z topowej serii Monitor Audio. Każdy przetwornik jest przykręcony do metalowego pręta wkręcanego od tyłu obudowy, co owocuje znakomitym mocowaniem przetwornika oraz mniejszymi drganiami na linii przód-tył. Vector przypomina wyglądem serię Radius, co też nie jest przypadkowe. Smukła linia, brak widocznych śrub mocujących, piękne okleiny dają serii Vector dystyngowany design, będący dużym atutem w świecie, gdzie często o zakupie decydują kobiety. Seria Vector jest dostępna w czarnym, matowym kolorze, z czarnym lakierowanym panelem przednim, doskonale pasującym do nowoczesnych płaskich ekranów. Dostępne jest również wykończenie w okleinie drewnianej (panel przedni) pasującej do stylowych pomieszczeń.
Vector V10 został zaprojektowany jako kompaktowy głośnik satelitarny, mogący współpracować z głośnikiem centralnym V20 i subwooferem VW-8 w systemie kina domowego.
Może być użyty także w systemie stereofonicznym, głównie za sprawą szerokiego pasma przenoszenia oraz świetnie zestrojonego bas-refleksu, gwarantującego niski bas i wysoką dynamikę.
V10 wyposażony jest w 10-cm przetwornik niskotonowy w technologi MMPII, uzupełniony 25-mm przetwornikiem Gold C-CAM, co daje w efekcie niezwykle szerokie, jak na tak niewielką konstrukcję, pasmo przenoszenia: od 65 do 30 000 Hz. Kolumna przystosowana jest do zawieszenia na ścianie
Technologie:
C-CAM® Tweeters (przetwornik wysokotonowy C-CAM)
Zaawansowane badania pozwoliły nam na optymalizację wyglądu i właściwości przetwornika wysokotonowego, dzięki czemu uzyskaliśmy o wiele wyższą skuteczność i szersze pasmo oraz czystość i detaliczność dźwięku. Przetwornik wysokotonowy C-CAM osiąga częstotliwość do 45 kHz co sprawdza się przy dźwięku ze źródeł High Definition.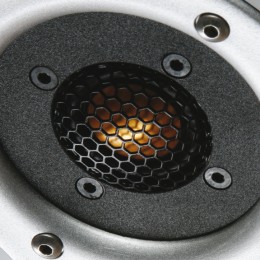 MMP® II – Metal Matrix Polymer
Przetworniki polipropylenowe posiadają powłokę metaliczną dla osiągnięcia dużej sztywności struktury głośnika. Metal ten jest natryskiwany pod dużym ciśnieniem, tworząc cienką strukturę w krytycznych punktach przetwornika i optymalizując jego pracę i wytrzymałość.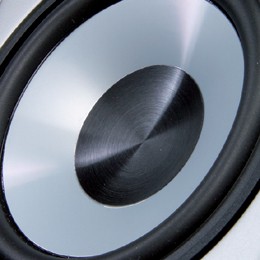 Cena za parę.
UWAGA!
Sprzedawane przez nas urządzenia Monitor Audio pochodzą od wyłącznego dystrybutora na Polskę i są z pełną 24 miesięczną gwarancją. Wielu nieuczciwych sprzedawców oferuje sprzęt z nieoficjalnych źródeł przez co mogą mieć Państwo problemy z późniejszą realizacją naprawy gwarancyjnej! Nie warto ryzykować, kupuj tylko u autoryzowanych sprzedawców firmy Monitor Audio!
Functionality
Kolumny stereo dzielą się na podłogowe oraz podstawkowe. Dobór wielkości kolumn zależy przede wszystkim od wielkości pomieszczenia. W pomieszczeniach do 10m kw warto dobierać kolumny podstawkowe. W przypadku pomieszczeń do 20m kw sprawdzą się zarówno większe podstawkowe jak i podłogowe. W pomieszczeniach o powierzchni 30m kw i więcej polecamy większe kolumny podłogowe.
Zdecydowana większość kolumn produkowana jest w ramach jednej linii, na którą składają się kolumny podłogowe, podstawkowe (często z uchwytami do podwieszania w komplecie) oraz kolumna centralna – stosowana do kina domowego. Uzupełnieniem powyższych produktów są subwoofery, które podobnie jak kolumny stereo mogą w znaczący sposób różnić się nawet w tym samym przedziale cenowym.
Zazwyczaj w ramach systemu stereo istnieje możliwość dołączenia subwoofera i stworzenia zestawu 2.1, który może być także traktowany jako podstawowe kino domowe z możliwością rozszerzenia o kolumnę centralną oraz kolumny podstawkowe – jako tylne głośniki efektowe.

Dobór kolumn do wzmacniacza powinien opierać się na 4 czynnikach:
- impedancji kolumn i wzmacniacza
- mocy kolumn i wzmacniacza
- barwie dźwięku kolumn i wzmacniacza
- preferencjach muzycznych klienta.

Aby jak najlepiej dobrać kolumny do wzmacniacza skontaktuj się z naszą obsługą.
Kolumny zalecamy łączyć w kino domowe z następującymi elementami:
Reviews / tests
No reviews.
About brand
Monitor Audio Ltd to brytyjski specjalista w dziedzinie budowy kolumn głośnikowych wysokiej klasy, włączając w to systemy stereo i wielokanałowe, a także dźwiękowo dopasowane do siebie systemy głośników instalacyjnych i multiroomowych.

Obojętnie czy chodzi o gust, czy o budżet, odkryjesz w Monitor Audio, że kombinacja najlepszej jakości dźwięku i doskonałego, nowoczesnego wyglądu potrafi zaspokoić wysublimowane potrzeby słuchacza. Od początku istnienia hi-fi całą energię skierowaliśmy w kierunku technicznych ekspertyz, innowacji i kunsztu w projektowaniu światowej klasy głośników, które mówią wszystko o firmie i o ludziach, którzy je posiadają. Chcemy podzielić się z Wami mieszanką stylu, jakości, brzmienia i wyrafinowania, które czynią głośniki Monitor Audio niepowtarzalnymi.
Compare products
There are no products to compare